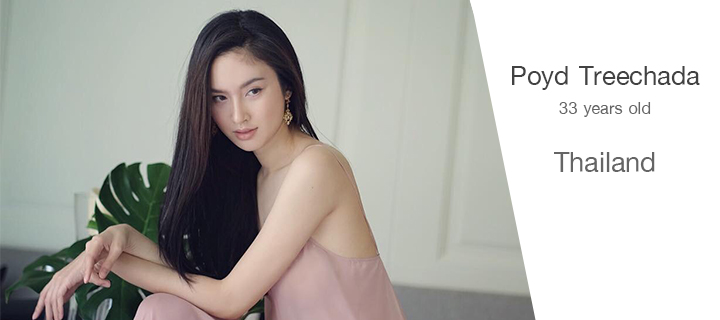 "A woman with vision and brain."
          Treechada Petcharat, better known by her nickname Poyd, is now the most talked about and famous transgender woman and actress in Thailand. She started to transform herself at the age of 18. Back then, she did not receive much support from her family. However, there was nothing to stop her from becoming a woman. Once turned 19 years old, Poyd decided to join Miss Tiffany Universe, a Pattaya based prestigious beauty pageant, specifically organized for every transgender woman with a dream of becoming a beauty queen. She bagged the crown home and later on represented Thailand at the Miss International Queen at  Tiffany Theatre of Pattaya, Chonburi, Thailand in 2004. Since then, Poyd, along her acting career path, has been participating in many campaigns aimed to promote Thai culture and the rights of transgender women. As actress whose world-class beauty and Thai charm enchants the world, Poyd, now, is a rising international star. Her advocacy in supporting transwomen and LGBTQ both at the local and international level has been well recognized. 
          In 2014, Poyd shot to the stardom in the international entertainment industry. She signed with an agency in Hongkong which eventually led her to star in many action movies both in Hongkong and mainland China. One of the roles that she played and received a very good response from moviegoers is "Mina Wei" in a 2013 Hongkong's crime thriller film called "The White Storm". After having signed the contract, in just one year time, Poyd was named one of the most gorgeous faces on earth. She ranked 73 th in The 25th Annual Independent Critics List of the 100 Most Beautiful Faces in 2014.
          Currently, Poyd is workings in the entertainment industry both on the big screen and television as well as modeling. She equally pays attention to work and her personal life. She has her educational backgrounds in mass communication and cosmetic technology from Suan Dusit University and North Chiang Mai University respectively. Poyd is a woman who loves to learn new things and spend her free time with the family down south in the Pearl of Andaman, Phuket Thailand.