Before and After Breast Implant Revision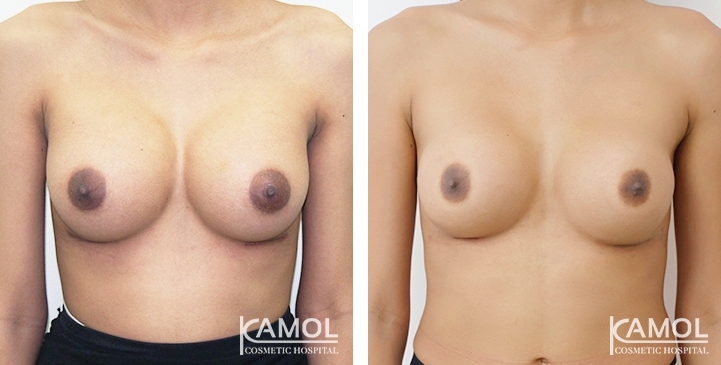 Before and After Down size from 350cc to be 300cc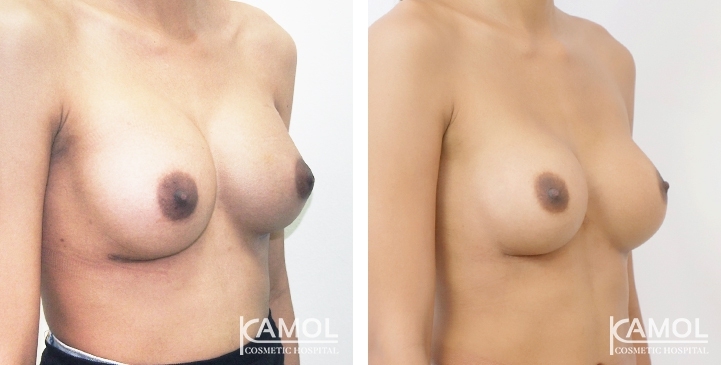 Before and After Down size from 350cc to be 300cc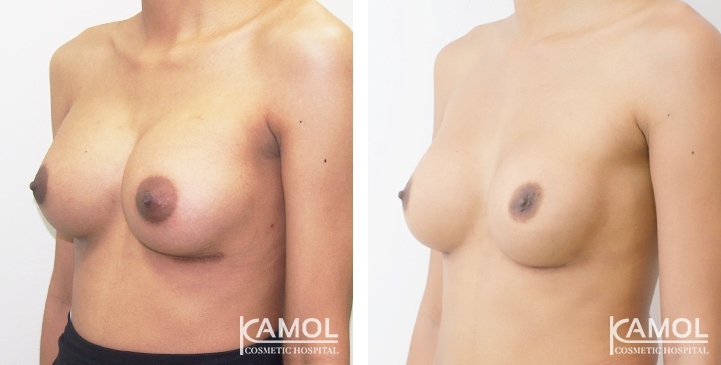 Before and After Down size from 350cc to be 300cc
Top reasons for breast Implant Revision:
There are several reasons why a woman may choose to have breast implant revision surgery, including:
Capsular contracture: This occurs when the scar tissue that naturally forms around the implant begins to tighten and squeeze the implant, causing pain and distorting the shape of the breast.
Implant rupture: Saline or silicone implants can rupture over time, causing a loss of volume and potentially leakage of the implant contents.
Implant malposition: The implant may shift out of place over time, causing asymmetry or an unnatural appearance.
Change in size or shape preferences: A woman may choose to have her implants removed or replaced with a different size or shape.
Rippling or wrinkling: Some women may develop rippling or wrinkling of the skin over their implants, which can be visible through the skin and be unsightly.
Breast implant-associated anaplastic large cell lymphoma (BIA-ALCL): In rare cases, women may develop a type of non-Hodgkin's lymphoma (cancer) associated with breast implants, called breast implant-associated anaplastic large cell lymphoma (BIA-ALCL).
Medical conditions: Some medical conditions such as autoimmune disease, infection, or pregnancy may require implant removal or replacement.
It's important to remember that breast implants are not lifetime devices and may need to be replaced or removed at some point.
Why Kamol Cosmetic Hospital are experts for Breast Revision Surgery?
Kamol Hospital is a leading medical facility in Thailand that specializes in plastic and reconstructive surgery, including breast implant revision. The hospital is known for its state-of-the-art facilities, advanced technology, and highly trained and experienced surgeons.
The team of surgeons at Kamol Hospital has extensive experience in performing breast implant revision procedures. They are skilled in various revision techniques such as replacement of old implants, removal of old implants, and correction of implant-related problems such as capsular contracture and symmastia. They use the latest surgical techniques, including endoscope-assisted surgery, which allows for smaller incisions and minimal scarring.
The hospital is also equipped with the latest technology, including 3D imaging and simulation software, to plan and perform the procedures. This technology allows the surgeons to achieve the best possible outcomes for their patients.
Kamol Hospital is also known for its commitment to providing high-quality care and excellent customer service. The hospital staff is dedicated to ensuring that patients feel comfortable and well-informed throughout the entire process, from consultation to recovery. The hospital also provides comprehensive aftercare services to ensure the best possible results and to help patients recover quickly and comfortably.
All these factors contribute to Kamol Hospital's reputation as a leading expert in the field of breast implant revision. Patients from all over the world travel to Kamol Hospital for breast implant revision surgery because of the hospital's reputation for providing high-quality care and excellent results.