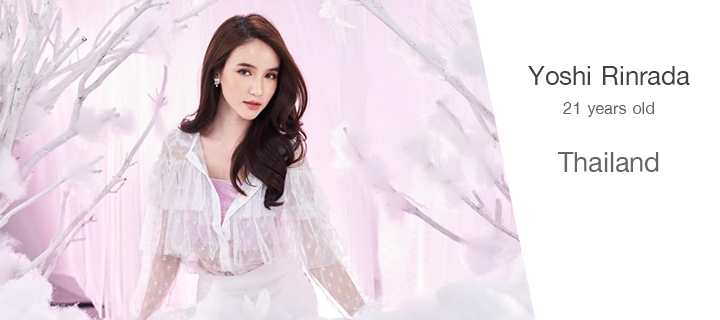 A New Face Takes Center Stage.
          Thailand has long been known as a country accepting of transgender people and LGBTQ rights. So strong is its tradition in this area that the country's second generation of transgender celebrities is now moving into the spotlight. And none is more famous than Rinrada "Yoshi" Thurapan. Yoshi, who studied communication arts at Bangkok University, has gained notice in Thai films and television comedies. But her greatest early fame came from her work as a model while she was still a teenager. By the time she was 18 years-old, Yoshi had already become a high profile endorser of Thai consumer products. Her face was recognized throughout the country, as she appeared on one magazine cover after another. Her appeal soon went international. And now she is known across Asia.
          Back in 2017, Yoshi was crowned Miss Tiffany Universe. Earlier, in 2015, she had had gender confirmation surgery. After winning Miss Tiffany Universe, she was able to represent Thailand in the Miss International Queen pageant the next year, where she finished as second runner-up. Her fame then multiplied and her career grew by leaps and bounds.
          At 21 years-old, Yoshi is now poised to begin the greatest stretch of her career. The person she admires most, her idol in many ways, is Treechada "Poyd" Petcharat, the transgender Thai megastar, who won Miss Tiffany and Miss International Queen in 2004. Yoshi feels especially fortunate that she and other transgender women not only have people such as Poyd as role models but as voices of wisdom. Today's newly emerging transgender women have an earlier generation to inform them of the correct medical paths to take as well as the proper career path. And, now, Yoshi, too, wants to advise young people who may face the same challenges she did. "Continue to be a good person," she insists, "and eventually the special things in you will shine out for the world to see and accept you for who you are."